2500+ Fantasy RPG Icons for RPG Maker
A downloadable asset pack
Get this asset pack and 6 more for $20.00 USD
View bundle

The icons that came with RPG Maker MV/MZ aren't enough or are just completely lacking and don't mesh with your game's vibes at all.
Not only that, all the other icon sets you've found are MAD EXPENSIVE!
And commissioning icons cost like $1 each, so if you ever wanted 1000 of them, that's $1000!
That can blow a hole into any casual hobbyist game dev's wallet!
SO HERE'S WHAT WE'VE GOT FOR YOU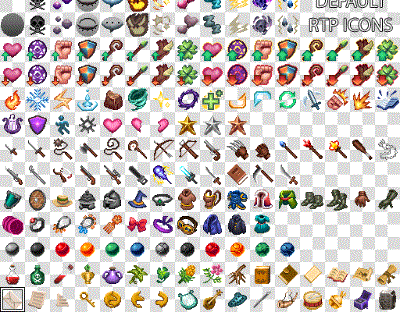 The icon set comes with buff icons, skill icons, state icons, weapons, armors, crystals, potions, consumables, you name it!
It's completely enough to cover the traditional FANTASY RPG you've wanted to make!
There's a total of 2500+ of them!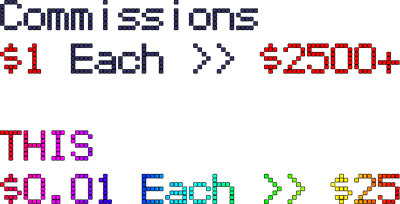 If you were to commission each of those icons, that would have cost you OVER $2500!
But these icons are $0.01 each to sell for a total of ONLY $25!
Furthermore!
If you've been using RPG Maker's default iconset, it would be a massive headache to go back and pick a different icon for each of your skills, items, weapons, armors, and states.
This is why we've made the first part of the 2500+ large iconset to be direct 1 for 1 replacements of the default iconset!
This way, the only work you need to do is just to replace the old with the new!
FEATURES
So what other features are there other than the 1 for 1 replacement of the default iconset?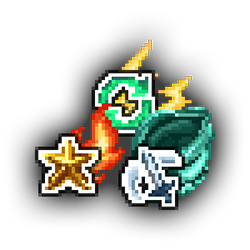 Skill and State Marked Mini-Icons: It's in good game design for players to glance at an icon and immediately know what to expect out of it. A variety of mini-icons are attached to commonly used elements, weapons, and status effects to give them a variety of combinations. Highly useful for those who want to create Custom Skill Effects!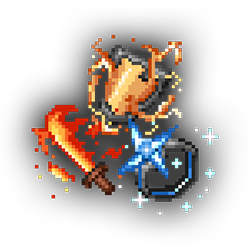 Elemental Weapons, Armors, and Accessories variants for each of the main eight elements! Fire, Ice, Thunder, Water, Earth, Wind, Light, and Darkness! A must have for those wanting to making Equipment Set Bonuses!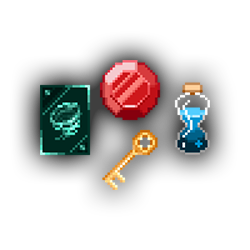 Color variations for general use and consumable items to flesh out your game! Ranging from potions, spell cards, throwing weapons, keys, scrolls, gems, crystals, coins, and more! Different colors aid in making your players recognize different items quickly! This is especially handy for those games with a large focus on items!
The Icon Sheet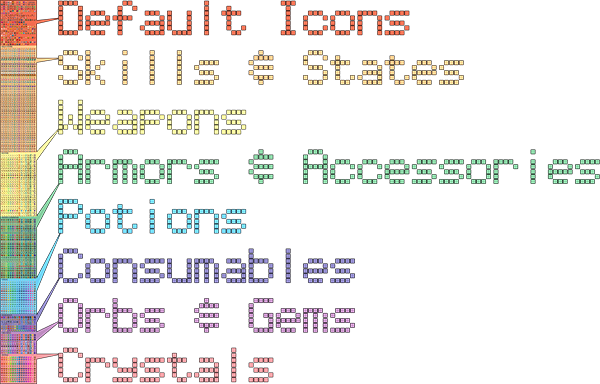 The icon sheet is separated in categories so that you don't have to hunt for everything one by one. We understand that with 2500+ icons, looking for that perfect icon for the perfect skill, item, equipment, or status effect can be VERY TIME CONSUMING so we will help you out with that!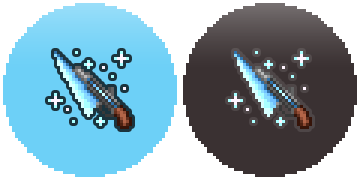 We know that each game is different and uses different themes. Some games use a light theme, while others use a dark theme. This may make certain icons harder to see clearly. This is why we're including different variations of the icon sheet with black or white outlines with varying degrees of intensity so you can find the one that fits your game perfectly.
80% OFF SALE!!

There is an 80% Off Sale until the end of the month!
With this sale, you are no longer paying $0.01 per icon, but EVEN LESS!
Make sure you don't miss it!
Check Out Our Other Icons!
We have some other icon sets that are compatible with this pack!
Legal Stuff
These icons are not to be used in commercial projects without being purchased from the above itch.io profile. These are engine free and can be used outside of RPG Maker.
Once the pack has been officially purchased, the buyer is now a license holder of this pack and has permission to use and edit these icons for use in apps, games, or whatever purpose they like EXCEPT that these icons cannot be redistributed to other parties who have not purchased it.
Purchase
Get this asset pack and 6 more for $20.00 USD
View bundle
In order to download this asset pack you must purchase it at or above the minimum price of $5 USD. You will get access to the following files:
Icon Sheets For Download
29 MB