100+ Fish Icons for RPG Maker
A downloadable asset pack
Get this asset pack and 6 more for $20.00 USD
View bundle

Did you ever want a fishing mini-game for YOUR game?
Then you might have realized there's not enough fish icons by default.
The games that have fishing in them tend to have a large variety of fish!
Games like Stardew Valley, Animal Crossing, Harvest Moon, and more!
So, let's get right to it!
HERE'S WHAT YOU WILL GET
There are over 100+ fish icons found in this set separated based on biomes!
Different fish appear in different biomes after all!
As this is priced at $10, you are paying ONLY $0.10 per icon!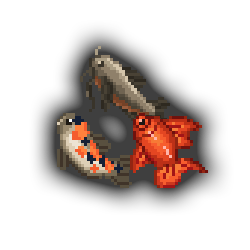 Pond: Carp, Catfish, Crawfish, Freshwater Goldfish, Frog, Gar Fish, Giant Snakehead, Killifish, Koi, Pop-eyed Goldfish, Ranchu Goldfish, Salamander, Tadpole, Toad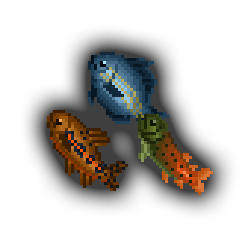 Mountain Lakes: Arctic Char, Bream, California Gold Trout, Cave Angelfish, Cherry Salmon, Stringfish, Tench

River: Angelfish, Arapaima, Arowana, Barbel Steed, Betta, Bitterling, Black Bass, Bluegill, Brook Trout, Crucian Carp, Dace, Dorado, Freshwater Eel, Freshwater Goby, Giant Catfish, Guppy, Herabuna, Large Bass, Loach, Mitten Crab, Neon Tetra, Nibble Fish, Pale Chub, Pike, Piranha, Pond Smelt, Rainbow Trout, Saddled Bichir, Snapping Turtle, Soft-Shelled Turtle (Green), Soft-Shelled Turtle (Brown), Soft-Shelled Turtle (Black), Sweetfish
, Tilapia, Yellow Perch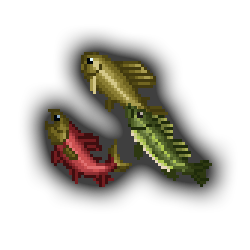 River Deltas: Delta Smelt, Diamond Sturgeon, Grayling, King Salmon, Lake Sturgeon, Salmon, Starry Sturgeon, White Sturgeon, Zander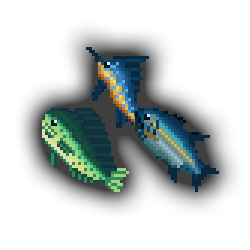 Pier: Blue Marlin, Giant Trevally, Mahi-Mahi, Tuna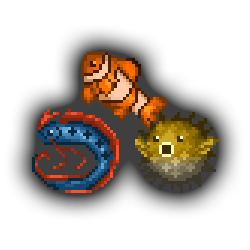 Ocean: Anchovy, Angler Fish, Barred Knifejaw, Barreleye, Blue Crab, Butterfly Fish, Clam, Clown Fish, Coelacanth, Flounder Fish, Giant Crab, Great White Shark, Hammerhead Shark, Horse Mackerel, Jellyfish (Red), Jellyfish (Blue), Lobster, Manta Ray, Moray Eel, Oarfish, Ocean Sunfish, Octopus, Oyster, Puffer Fish, Red Snapper, Royal Blue Tang, Saw Shark, Scallop, Sea Bass, Sea Horse (Light), Sea Horse (Gold), Squid (Red), Squid (Yellow), Squid (Dark), Suckerfish, Whale Shark, Zebra Lionfish

The Icon Sheet
The icon sheet will be made ready to be attached to any RPG Maker MV/MZ icon sheet. All you have to do is open up an image editor and add it to the bottom.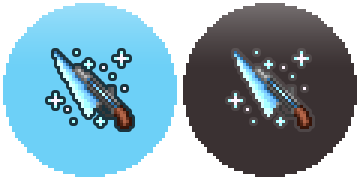 (above icons are from the 2500+ Icon Sheet)
We know that each game is different and uses different themes. Some games use a light theme, while others use a dark theme. This may make certain icons harder to see clearly. This is why we're including different variations of the icon sheet with black or white outlines with varying degrees of intensity so you can find the one that fits your game perfectly.
80% OFF SALE!!

There is an 80% Off Sale until the end of the month!
With this sale, you are no longer paying $0.10 per icon, but EVEN LESS!
Make sure you don't miss it!
Check Out Our Other Icons!
We have some other icon sets that are compatible with this pack!
Legal Stuff
These icons are not to be used in commercial projects without being purchased from the above itch.io profile. These are engine free and can be used outside of RPG Maker.
Once the pack has been officially purchased, the buyer is now a license holder of this pack and has permission to use and edit these icons for use in apps, games, or whatever purpose they like EXCEPT that these icons cannot be redistributed to other parties who have not purchased it.
Purchase
Get this asset pack and 6 more for $20.00 USD
View bundle
In order to download this asset pack you must purchase it at or above the minimum price of $2 USD. You will get access to the following files:
Fish Icons For Download
2 MB