100+ Bug Icons for RPG Maker
A downloadable asset pack
Get this asset pack and 6 more for $20.00 USD
View bundle

Hello there!
Does YOUR game have bug catching or do you want to ADD bug catching to your game?
This icon set contains a variety of at least 100 bug icons!
You will need a large variety of bugs to make bug catching game activities worthwhile!
Games like Harvest Moon, Animal Crossing, Yo-Kai Watch, and more!
So, what kind of bugs are there?
HERE'S WHAT YOU WILL GET
There are at least 100 bug icons found in this set, based on their behaviors!
As this is priced at $10, you are paying ONLY $0.10 per icon!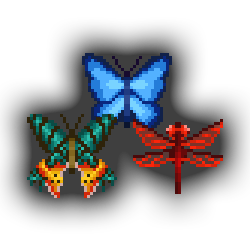 Free-Flying Bugs: Agrias Butterfly, Banded Dragonfly, Common Bluebottle, Common Butterfly, Damselfly, Darner Dragonfly, Emperor Butterfly, Firefly, Fruit Fly, Madagascan Sunset Moth, Monarch Butterfly, Mosquito, Moth, Paper Kite Butterfly, Peacock Butterfly, Queen Alexandra's Birdwing, Rajah Brooke's Birdwing, Red Dragonfly, Tiger Butterfly, Yellow Butterfly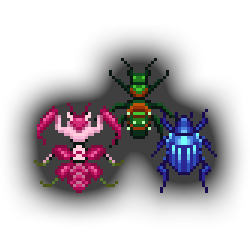 Grounded Bugs: Army Ant, Bell Cricket, Black Ant, Centipede, Common Grasshopper, Desert Dung Beetle, Earth-boring Dung Beetle, Earthworm, Fire Ant, House Cricket, House Roach, Millipede, Mole Cricket, Orchid Mantis, Pill Bug, Praying Mantis, Red Ant, Rice Grasshopper, Roundworm, Sandworm, Scarab, Scorpion, Snail, Tapeworm, Tiger Beetle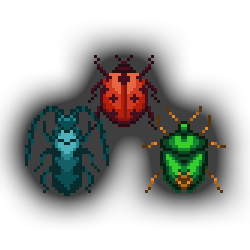 Perched Bugs: Citrus Long-Horned Beetle, Flea, Green Stink Bug, Jewel Beetle, Ladybug, Long Locust, Man-faced Stink Bug, Migratory Locust, Rosalia Batesi Beetle, Violin Beetle, Walking Leaf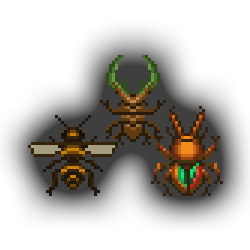 Tree Bugs: Atlas Moth, Bagworm, Blue Weevil Beetle, Brown Cicada, Bumblebee, Cicada Shell, Cyclommatus Stag, Drone Beetle, Evening Cicada, Giant Cicada, Giant Stag, Giraffe Stag, Golden Stag, Goliath Bettle, Honey Bee, Horned Atlas, Horned Elephant, Horned Hercules, Miyama Stag, Rainbow Stag, Robust Cicada, Saw Stag, Walker Cicada, Wasp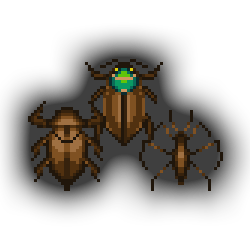 Aquatic Bugs: Backswimmer, Diving Beetle, Giant Water Bug, Pondskater, Water Strider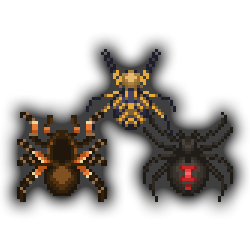 Spiders: Armed Spider, Brown Recluse, Cellar Spider, Crab Spider, Crevice Spider, Garden Spider, House Spider, Huntsman Spider, Jumping Spider, Lynx Spider, Orb-Weaver Spider, Tarantula, Wall Spider, Widow Spider, Wolf Spider
The Icon Sheet
The icon sheet will be made ready to be attached to any RPG Maker MV/MZ icon sheet. All you have to do is open up an image editor and add it to the bottom.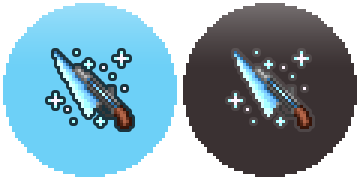 (above icons are from the 2500+ Icon Sheet)
We know that each game is different and uses different themes. Some games use a light theme, while others use a dark theme. This may make certain icons harder to see clearly. This is why we're including different variations of the icon sheet with black or white outlines with varying degrees of intensity so you can find the one that fits your game perfectly.
80% OFF SALE!!

There is an 80% Off Sale until the end of the month!
With this sale, you are no longer paying $0.10 per icon, but EVEN LESS!
Make sure you don't miss it!
Check Out Our Other Icons!
We have some other icon sets that are compatible with this pack!
Legal Stuff
These icons are not to be used in commercial projects without being purchased from the above itch.io profile. These are engine free and can be used outside of RPG Maker.
Once the pack has been officially purchased, the buyer is now a license holder of this pack and has permission to use and edit these icons for use in apps, games, or whatever purpose they like EXCEPT that these icons cannot be redistributed to other parties who have not purchased it.
Purchase
Get this asset pack and 6 more for $20.00 USD
View bundle
In order to download this asset pack you must purchase it at or above the minimum price of $2 USD. You will get access to the following files:
Bug Icons For Download
1 MB