100+ Fast Food Icons for RPG Maker
A downloadable asset pack
Get this asset pack and 6 more for $20.00 USD
View bundle

Welcome!
If you have a cooking system in YOUR game, chances are, you're looking for some completed food!
This icon set contains fast foods, the common foods you see every day in the modern world, and more!
HERE'S WHAT YOU WILL GET
There are over 100+ food icons found in this set ranging from sandwiches, burgers, pizzas, and more!
As this is priced at $10, you are paying only $0.10 per icon!!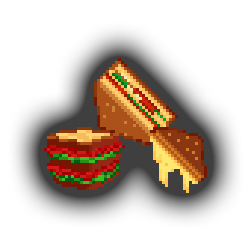 Sandwiches and Subs: Cheesesteak Sandwich, Club Sandwich, Cuban Sandwich, Egg Salad Sandwich, Francesinha, French Dip Sandwich, Grilled Cheese Sandwich, Ham Sandwich, Italian BLT Sandwich, Oven Roasted Chicken Sub, Panini Sandwich, Peanut Butter & Jelly Sandwich, Piadina Romagnola, Reuben Sandwich, Roast Beef Sandwich, Steak & Cheese Sub, Tortas Sandwich, Tuna Sandwich, Turkey Sandwich, Veggie Sub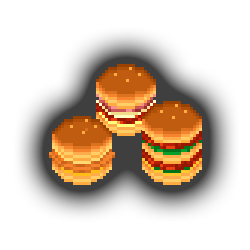 Borgars Burgers: American Cheeseburger, Bacon Swiss Cheeseburger, BBQ Bacon Angus Burger, Big Mac Burger, Blue Cheeseburger, Cheeseburger, Chicken & Cheese Burger, Chicken Burger, Chile Cheeseburger, Classic Angus Burger, Double Beef 'n' Bacon Burger, Double Cheeseburger, Filet-o-Fish Burger, Fried Egg Cheeseburger, Junior Burger, Quarter Pounder Burger, Salmon Burger, Seafood Burger, Turkey Burger, Veggie Burger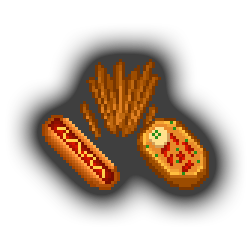 Fried Foods: Burrito, Cheesesticks, Chicken Nuggets, Curly Fries, Deep Fried Squid, Fish Sticks, French Fries, Fried Cheese Wedges, Fried Chicken Fingers, Fried Chicken Leg, Fried Chicken Wings, Fried Crab Legs, Fried Octopus Balls, Fried Onion Rings, Fried Shrimp Prawns, Hashbrowns, Hot Dog, Loaded Bacon and Cheese Fries, Potato Skins, Waffle Fries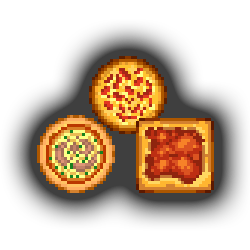 Pizzas: Australian Pizza, Avocado Pizza, Bacon Pizza, BBQ Chicken Pizza, Black Olives Pizza, California-Style Pizza, Four Cheese Pizza, Garlic Finger Pizza, Green Peppers Pizza, Hawaiian Pizza, Meat Lovers Pizza, Mediterranean Pizza, Mushroom Pizza, Paneer Pizza, Pepperoni Pizza, Sausage Pizza, Seafood Pizza, Sicilian Pizza, Spinach Pizza, Vegetarian Pizza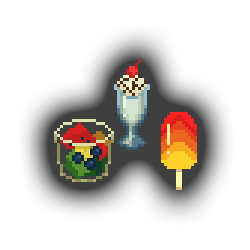 Sweets: Apple Slices, Vanilla Cake Slice, Chocolate Cake Slice, Strawberry Cake Slice, Mint Cake Slice, Crepe, Donut (Cream Covered), Donut (Jelly-Filled), Donut (Plain), Donut (Sprinkles), Ice Cream Cone (Vanilla), Ice Cream Cone (Chocolate), Ice Cream Cone (Strawberry), Ice Cream Cone (Mint), Ice Cream in a Cup (Vanilla), Ice Cream in a Cup (Chocolate), Ice Cream in a Cup (Strawberry), Ice Cream in a Cup (Mint), Ice Cream Sandwich, Mixed Fruit Cup, Pancakes, Popsicle, Pretzel, Pudding Cup, Sundae, Waffles
The Icon Sheet
The icon sheet will be made ready to be attached to any RPG Maker MV/MZ icon sheet. All you have to do is open up an image editor and add it to the bottom.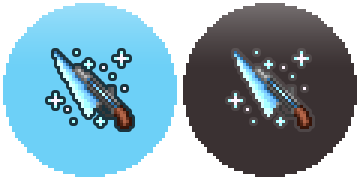 (above icons are from the 2500+ Icon Sheet)
We know that each game is different and uses different themes. Some games use a light theme, while others use a dark theme. This may make certain icons harder to see clearly. This is why we're including different variations of the icon sheet with black or white outlines with varying degrees of intensity so you can find the one that fits your game perfectly.
80% OFF SALE!!

There is an 80% Off Sale until the end of the month!
With this sale, you are no longer paying $0.10 per icon, but EVEN LESS!
Make sure you don't miss it!
Check Out Our Other Icons!
We have some other icon sets that are compatible with this pack!
We have some other icon sets that are compatible with this pack!
Legal Stuff
These icons are not to be used in commercial projects without being purchased from the above itch.io profile. These are engine free and can be used outside of RPG Maker.
Once the pack has been officially purchased, the buyer is now a license holder of this pack and has permission to use and edit these icons for use in apps, games, or whatever purpose they like EXCEPT that these icons cannot be redistributed to other parties who have not purchased it.
Purchase
Get this asset pack and 6 more for $20.00 USD
View bundle
In order to download this asset pack you must purchase it at or above the minimum price of $2 USD. You will get access to the following files:
Fast Food Icons For Download
1 MB